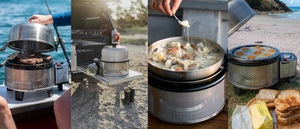 The worlds most versatile portable outdoor cooker.
The award winning COBB portable BBQ - smoking hot on the inside yet cool to the touch on the outside. Portable, durable, eco-friendly and safe, offering the versatility you need for the ultimate outdoor cooking experience. With accessories that allow you to smoke, bake, fry, boil, grill and roast – your cooking options are endless.
Both charcoal and gas fuelled models available.
COBB GAS
The COBB Gas portable BBQ brings cooking convenience to outdoor adventures. Fuelled by a convenient 230g/450g non-refillable butane gas canister, with up to 9 hours of cooking time on a canister and light enough to take anywhere, this sturdy, stainless steel cooking system is a dream to travel with.
COBB COOKING ADVENTURES & RECIPES
View all